Donate online by credit card or debit card
Set up regular donations
Regular donations are one of the easiest and best ways that you can support Women's Refuge, because they help us to plan for the future effectively and efficiently. Donating in this way also helps us save costs such as administration, stationery and postage. Please email us for more information.
Internet banking
You can make donations by online banking. Simply log in to your bank account online, and make a payment directly to the Women's Refuge account. Please email us for our account details.
Donate by cheque
Please make your cheque out to Women's Refuge and post it to:
Women's Refuge
PO Box 27-078
Marion Square
WELLINGTON 6141
If you would like a receipt, remember to put your full name and address in the envelope so we can send one out to you.
Payroll giving
Many employers are offering the opportunity to voluntarily donate to your favourite charity through payroll giving. Donations of your nominated amount are made straight from your pay, giving an immediate 33% tax credit on your donation. Donating this way means you won't have to submit receipts to the IRD at the end of the tax year to get a refund, and your PAYE is reduced by the amount of the tax credit. To find out more on how you can support us through payroll giving, speak to your employer and then email us.
Donation boxes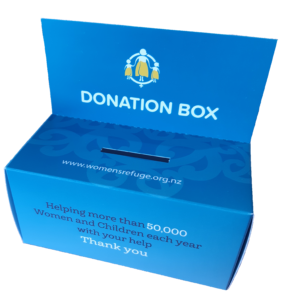 Run a business? Pop a donation box on your counter for your customers to donate their spare change. Contact fundraising@refuge.org.nz to get a box sent to you.